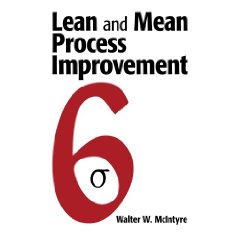 Walter McIntyre
Available on Google as paperback or eBook (standard epub format) at LMPI
Lean and Mean Process Improvement, by Walter McIntyre, is a straight forward presentation of the tools of Lean Six Sigma.  It touches on market analysis, Six Sigma team building, easy to use graphical tools and easy to understand explanations of statistical tools.
This approach is not by accident. Lean Six Sigma Process improvement has too long been focused on corporate wide roll-outs and "quality programs". That approach to improving business performance is based more upon words than deeds, more upon supervision than leadership.
Lean and Mean Process Improvement is written to be used by people at the cubicle and office level, who have a basic understanding of Lean Six Sigma.  This bottom-up approach will help senior management to understand processes "out on the floor" and how they impact the customer chain all the way to the end user.
Some Lean Six Sigma Topics Covered
Definition of Process Improvement
Market Segmenting
Finding the Voice of the Customer
Project Selection Guide
Easy Sampling Plan Tools
Easy to Understand Statistics
Team Selection and Building
Design of Experiment DOE
Thanks for stopping by,
Walter McIntyre
Contact me on Twitter: waltmcintyre
or by email: walt.m@att.net
World Wide Interest: May 2011 Google Hits